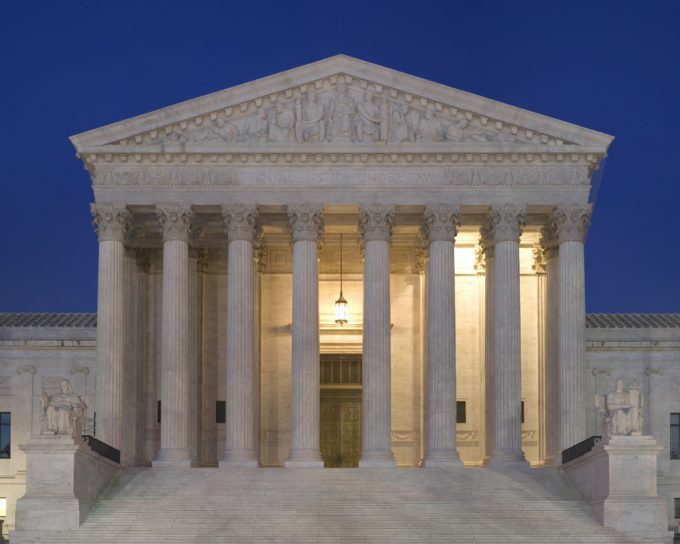 Supreme Court Poised to Overrule Federal Circuit Again in Upcoming Patent Case
By Adi Kamdar – Edited by Travis West
The Supreme Court announced it would take up two parallel patent cases this term: Stryker Corp. v. Zimmer, Inc. and Halo Electronics, Inc. v. Pulse Electronics, Inc. The Court will consider the Federal Circuit's strict standard for awarding enhanced damages for willful patent infringement — a standard that does not comport with recent high court rulings. This discrepancy has most commentators predicting the Supreme Court will overrule the Federal Circuit, continuing a clear trend that materialized through the Court's last few terms.

Overruling the Federal Circuit, the appeals court that hears all patent issues, in this consolidated case would be a win for plaintiffs — a marked difference from prior Supreme Court rulings, which have tended to favor defendants. Loosening the Federal Circuit's standard for willful patent infringement will make it easier for patent owners to secure treble damages, making infringement much more expensive.
And higher damages is exactly what the plaintiffs in these cases want, as Ars Technica reports. Halo Electronics, a small transformer manufacturer, took on the much-larger Pulse Electronics for infringing a patent on a particular component — an "electronic surface-mount package." Halo won and was awarded $1.5 million, but both the trial court and Federal Circuit threw out its willful infringement claim. Stryker has a very similar case against Zimmer regarding patents covering a medical lavage device used for cleaning wounds and bones. While the plaintiff was awarded $210 million dollars, the Federal Circuit reversed the lower court's finding of willfulness and lowered the award to $70 million.
The statute at the heart of this matter — 35 U.S.C. § 284 — simply says that a court "may increase the damages up to three times the amount found or assessed." The Federal Circuit has added a rigid standard in interpreting this statute, however, making it extremely difficult for plaintiffs to show willfulness and receive a higher award. The test, first articulated in In re Seagate, 497 F. 3d 1360 (Fed. Cir. 2007), has two prongs, one objective and one subjective. First, "the patentee must show by clear and convincing evidence that the infringer acted despite an objectively high likelihood that its actions constituted infringement." Second, once the objective threshold has been reached, the patentee must show that the infringer knew or should have known about this high risk of infringement.
A concurrence in the Federal Circuit's Halo decision noted that the current willfulness test is analogous to the two-prong attorney's fees test that the Supreme Court struck down in two recent decisions, Highmark Inc. v. Allcare Health Management System, Inc, No. 12–1163 (U.S. Apr. 29, 2014), and Octane Fitness, LLC v. ICON Health & Fitness, Inc, No. 12–1184 (U.S. Apr. 29, 2014). The concurrence urged the rest of the Federal Circuit to reconsider its strict test in light of the comparable Supreme Court cases, and instead adopt a more flexible totality of the circumstances test.
Instead, the Supreme Court has taken up this charge. Commentator Gene Quinn of IP Watchdog is confident the Supreme Court will overturn the Federal Circuit's rigid test, allowing district courts flexibility to award increased damages. This would shift incentives, according to Quinn, and would "quickly and dramatically even the playing field between infringer and patent owner." He notes, however, that enhanced damages is a touchy issue in the Supreme Court, preventing absolute certainty in an overruling decision.
On the other hand, defendants like Zimmer argue that getting rid of the willfulness test would force small businesses, when faced with the risk of a large judgment, to settle.