Getting Involved
Welcome to the Harvard Journal of Law and Technology, lovingly referred to as JOLT! We are a student-run journal and technology community with over one hundred students involved each year. With the large size of the organization, it can be daunting to navigate, or get involved. This page is designed to help cut through that! If you have any questions, or just want to get in touch with someone, you can reach out to the Operations Editor, King Xia (jolt.ops.editor@gmail.com), or our Outreach Editors, Saranna Soroka and Lauren Beck (joltoutreach@gmail.com). We'd love to answer any/all questions!
First Steps

As an incoming 1L, the paired Subcite and Digest experience is how to start getting involved with the journal. It's a way to get experience with both the print and digital sides of our journal, as well as meet our community, with a low time-commitment. You will attend a 4-hour subcite and either write or edit a short blog post to be featured on this site over the course of a semester.
I've subcited, now what?
If you're looking for more involvement right away, before the end of the semester, there are a few ways to do that. First, you are more than welcome to attend Technical Edits, so you can learn more about the article editing process and how your piece has evolved. Second, you can join the Submissions Committee, where you will do research on and give an initial recommendation on incoming articles, and whether or not you think we should publish them. Finally, you can apply to be a Production Editor, where you will be in charge of getting articles print-ready.
What about Spring semester?
If you want to stay involved with the print journal, we encourage you to apply for a Line Editor position, where you will manage Subciters and a larger portion of an article. Digest-side, we would love to have you come back and write or edit for the online journal. Finally, look towards spring elections for elected masthead positions.
What else can I get involved with?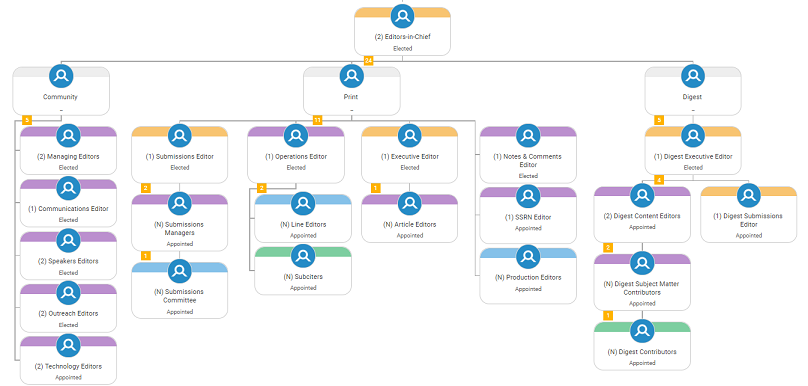 This is the JOLT organization structure. (You can view a larger version here.) It looks like a daunting chart, but we promise JOLT is very easy to navigate! We have a number of roles which are elected during our annual spring elections, as well as a number of appointed roles, which we will announce over the JOLT newsletter when applications open. (If you are not subscribed to the newsletter, you can do that here.)
What do the colors mean?
The green roles are open to everyone, and are the best way to start getting involved with the journal. Blue roles are roles are also open to everyone, but most require a semester of subciting experience first. Orange roles are normally held by 3Ls, and purple roles by 2Ls.